Solstice Celebration with Chakradance – June 2021
What a beautiful solstice celebration with chakradance we have experienced! We had the perfect setting on one of the most ancient sites on Aphrodite's routes in Cyprus with a beautiful powerful energy. We had the right amount of sunshine on our skin to keep us connected to the powerful solar energy that fuels our own inner sun, inner light! And towards the end, we were gifted by a beautiful moon to keep the masculine and feminine energies in balance! 
Why do we celebrate the solstice?
Summer Solstice brings us to the halfway point of the Wheel of the Year. The sun is in full reign, reaching a peak in the sky and shedding beams of light. It 'stands still' and its brilliance allows us to see things clearly, banishing shadows and burning all that does not serve us from the past. Are you allowing your own beaming powerful light to shine brightly its brilliance?
The sun is a warming entity, so it fires our passions and heats up our hearts to the potential of life that abounds. Are you allowing your passion, desire and sensuality to burn more intensely within the hearts of humanity?
Interestingly, herbs are at their most potent state during this time. And it is the time to gather and dry the herbs for use during the rest of the year. It marks the transition from cultivation to harvest. What have you cultivated and are now ready to harvest and enjoy?
It's time to celebrate the shift of the seasons, the harvest and life's potential and abundance. Dance is a way of celebrating, it allows you to let go and feel free to celebrate life. Today people around the world still celebrate the arrival of summer with outdoor feasts, singing, dancing, and bonfires.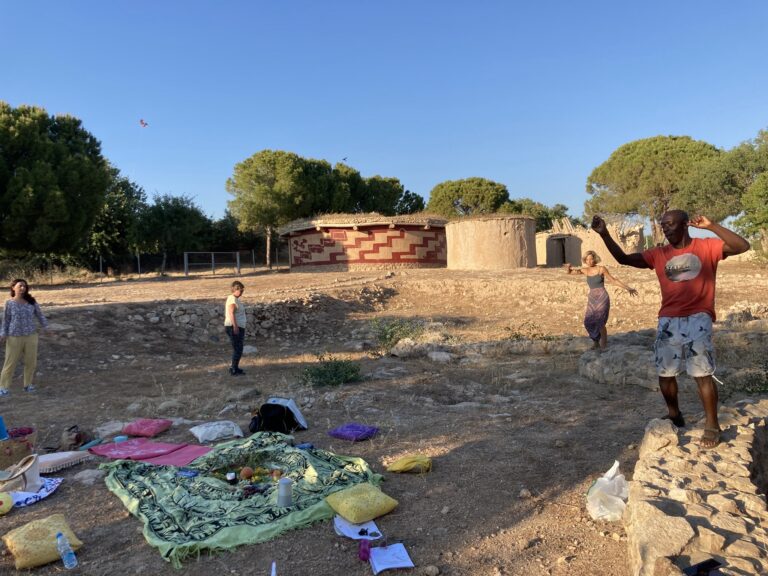 Solstice Celebration with Chakradance as a way to reconnect us to our own inner light!
Chakradance supports participants to enter into a journey of spontaneous dance through the  music pulsing to the energy the chakras,  guided imagery, spontaneous mandala art drawing and meditation. We dance with our eyes closed or a lowered gaze and can dance like no one is watching! 
Because, we  are celebrating and honouring the sun, I decided to facilitate the dance connected to the chakra that is related to our own solar energy. This is the solar plexus chakra, 'manipura', located between the navel, and the base of the sternum. This is an re-energizing dance that will reconnect you to your own POWER and FREEDOM!
When Manipura is activated, our whole system becomes fully energised.  Which in turn fires up our power, drive and sense of purpose.
Fire is the element associated with the solar plexus chakra. And just as fire burns and generates energy, so the solar plexus fuels our metabolism.
When we bring balance to this chakra, we can begin to experience a true inner strength and authentic power. We move away from the unhealthy desire to gain power over others. This creates a more relaxed and spontaneous life, powerful and purposeful but free.
When we balance the solar plexus chakra, we accept who we truly are. We also accept others for their true selves too.
What happens during the solar plexus chakradance?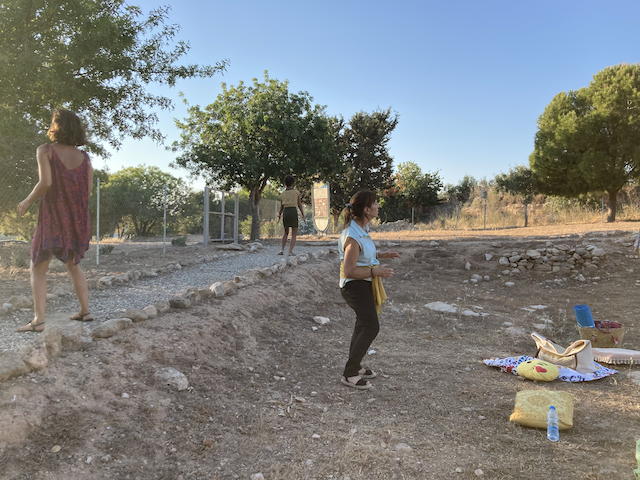 When we are dancing the solar plexus chakra we are dancing transformation. This is a masculine dance, it calls in the warrior within. We move fast and dynamically reigniting the fire within. This fire within helps us to burn and destroy old patterns and overcome inertia whilst creating energy moving us into a dance of strength, courage and purpose.
We started with an opening sun meditation. After an introduction to the circle, we moved straight into warm up and then the solar plexus dance. We started this dancing journey through a sensing dance. Then we moved on to a fire transformational  dance, where we burnt anything that we do not need.  We ended up with a masculine warrior dance, a very powerful dance that connected us with our own solar energy, and personal power.
Following the dance, we gathered in the circle again and we expressed the dance into a spontaneous mandala art drawing. It is an opportunity to reflect on the experiences through creativity. It is intended to continue to guide us on the experience of the dance. We ended up with an integration meditation that continued to focus on our on inner sun that lights us and the world around us.
I am attracted towards prehistoric archeological sites especially sacred sites. So, instinctively I was drawn to the Lempa Lakkoi prehistoric village in Paphos district, close to where I live. 
As our ancestors gathered in these sites to  honour and celebrate the solstices,I thought it is a great idea to do the same. 
Lemba's Prehistoric site is part of Aphrodite's pilgrimage route. It is  where the 'Lady of Lemba' figurine was found, the female deity associated with fertility and women. The Lempa settlement is dated to the late Chalcolithic period (3.500 – 2.400 BC). Learn more about this amazing site on https://www.cyprusalive.com/en/lempa-lakkoi-prehistoric-settlement
I am grateful and honoured to be able to share this open hearted space that help us to connect within, to remember our power, to boost us reenergise us. It was our intention to receive guidance as we walk through the next half of 2021 through the solar plexus chakradance. Indeed a very powerful dance! 
Thanks to each and everyone of you who came with an open heart. Grateful that you all shared freely from your heart, and been of support to each other in the chakradance circle! 
Until the next one, may you always be connected to your own light and inner power!
"Energetically, physically, emotionally and mentally, we are all powerful, radiant beings. However, we may not always be living from a place where we accept and radiate our own power. Sometimes we may feel like it would be easier not to have to interact and bargain and state our worth to people at all. Sometimes we may give in and accept less than we're worth. These are all symptoms of an under-active solar plexus chakra." - Natalie Southgate
If you would like to know about the next Chakradance event live or online, I suggest you subscribe to my mailing list. Also, check my Events Section 
Want to stay connected with me?
Subscribe to my newsletter
Sharing is caring .... if you think that this blog article can be of help, please share it through it the links below.