Fall Holistic Day – Practices to 'Reset Your Life'
Learning Practices to Reset Your Life was the main intention of the Fall Holistic Day that Dora Nemes (https://www.dorayogaart.com/) and myself facilitated together. We are both very grateful and happy for the day we have spent together facilitating different practices to support participants on their journey of life. Fall Holistic Day was a great day of self care as each participant relaxed and reconnected with their own self.
By the end of the day all participants left feeling re-centred, renewed and renergised. They took with them some tools and simple practices that they can use in their day to day life to keep them centred, calm, resilient and grounded when you they feel  a need to Reset from the craziness of life.
Practices learned during the Fall Holistic Day to 'Reset Your Life'
We started the day with a mindfulness workshop  facilitated by myself, which also included a sensory awareness exercise to reconnect us with our body and also ground us for the day. 
Dora, explained to us the role of the root / base chakra in living a healthy vibrant life. We moved on to a yoga session that focused on this chakra. A sound bath that left us totally relaxed led us to lunch break. 
By this time some of us already had some insights and clarity which is so wonderful. 
Following lunch break, Dora led an essential oil / aromatherapy workshop whereby she focused on those essential oils that can support us as we move through Autumn. 
The day came to an end with a Root Chakradance Workshop led by myself. After a check in and introduction to this dance, we moved on to a warm up to get us moving into the dance. As we moved on to the root chakradance which we refer to as a dance of the legs and feet, we danced our instincts, our senses, we danced with Mother Earth and we also danced our wild self. Some of us connected to a power animal. We continue to express the dance through a spontaneous art exercises in a mandala which was also revealing.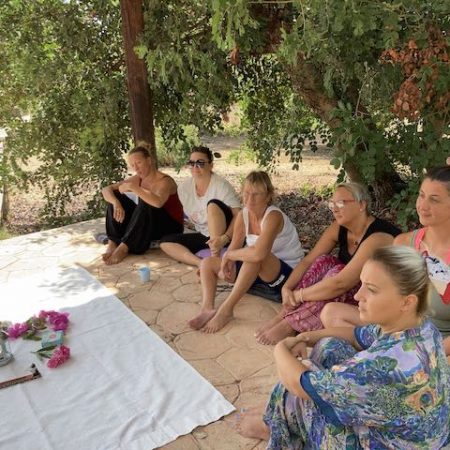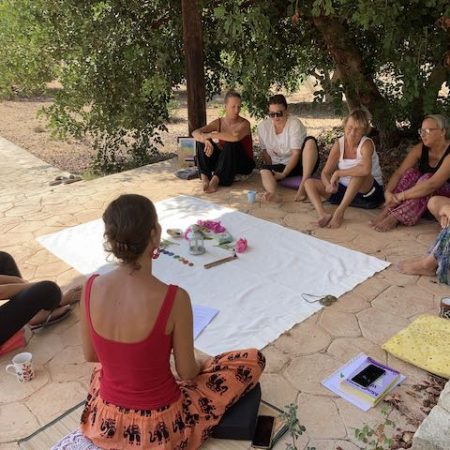 Why did we focus on the Root Chakra as a way to 'Reset Your Life'?
"When we balance our base chakra, we can develop a deep trust in our place in the world, and a strong sense of personal safety and security underlies every step we take in life." - Natalie Southgate
The root chakra is the first chakra and is located at the base of the spine. It is the root of our being and establishes the deepest connections with our physical body, environment and the Earth.
The modern busy lifestyle can creates a disconnection with our body. Many of us are more in their heads thinking, planning, analysing, and doing and doing.  We need to create a space to go down from the head to the body. How? Through practices of mindfulness meditation, sensory awareness, dance,  yoga, or spending time in nature. 
So, participants learned how this chakra can support them through the different practices in feeling more resilient, centred, calm and grounded. They learned how to connect with their body, their physical world, their environment which are all the foundation of a grounded and resilient life. For a fulfilled life, we need to have strong deep roots! 
The root chakra lies at the base of the spine. Like the roots of a tree, the base chakra energetically grounds and connects us to our physical body and world. It is linked to all physical aspects of our life. This chakra is link to safety, our home or shelter, survival, family and our material wealth. It is associated with our basic instincts for food, shelter, sex and survival. It is the foundation of life.
The first chakra is developed in the womb and the early years of life. So, childhood traumas and adverse childhood experiences (ACE's) are stored in this chakra. 
 If you would like to know more about how this chakra is influencing your life, or would like to know if your root chakra is balanced or not, please get in touch here 
How can the Practice of Mindfulness Meditation and Chakradance support you to 'Reset Your Life'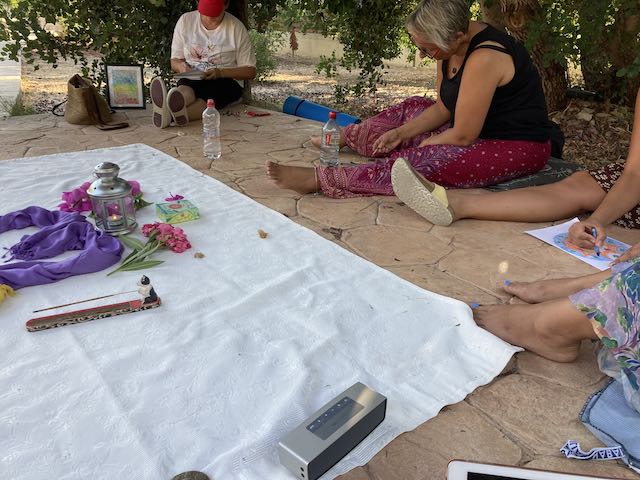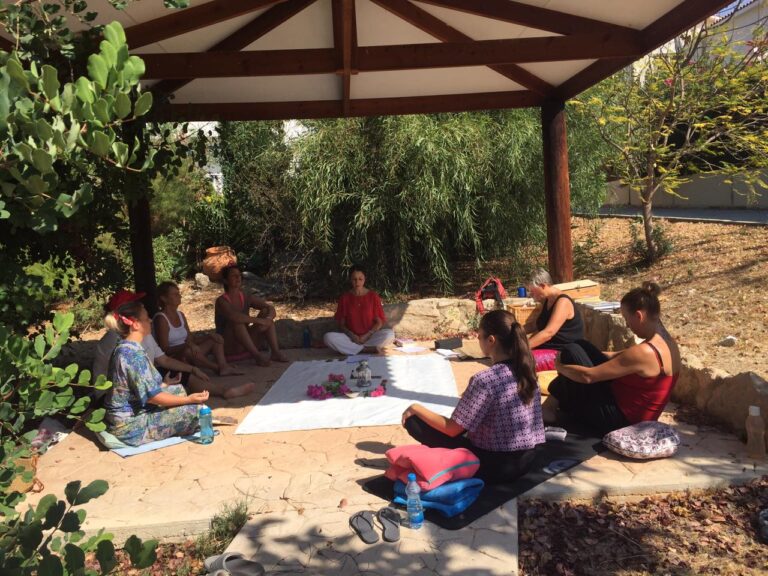 Mindfulness Meditation Practice to 'Reset Your Life'
During the workshop I facilitated during the 'Reset Your Life – Fall Holistic Day' WI have shared few practices that were designed to help us all connect with the here and now. Exercises to bring present moment awareness. With present moment awareness we feel more alive, awake, calm and centred. Ready to face life! 
The exercises focused on bringing awareness to the breathe. Through the breath we bring present moment awareness. We become more focused and the more we practice this technique the more we get into the 'zone', in the 'flow' of life!
Another way of bringing present moment awareness, is through the use of the 5 senses. Sensory awareness, helps us to ground and centre ourselves when we feel overwhelmed and stressed. It takes the focus from the mind (the overwhelm and the stress) and bring focus back to the body through the senses. When we are focused on the senses, we are focused on the present moment, on the sensations of the body in the here and now, and guess what we feel alive and more joyful. 
So, thats what we did, we brought more present moment awareness through a sensory awareness exercise for the 5 senses. 
If you would like to know how mindfulness can support you in living a more aware life, an awakened life, a life filled with more joy, calm, and peace,  read more here. I also offer a FREE mindfulness audio for you and also a FREE 30 minute call. Should you wish to know more about the audio and the call contact me here.
Dancing our Root Chakra as a Practice to 'Reset Your Life'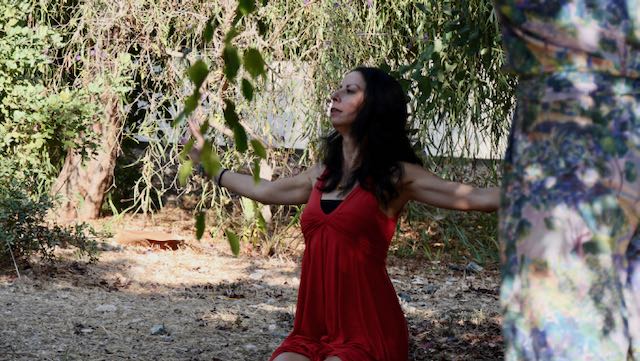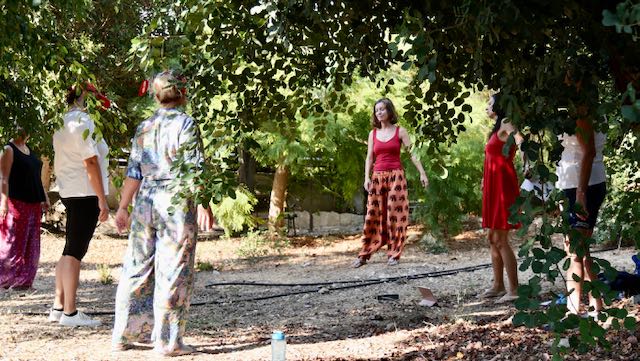 Our Fall Holistic Day came to an end with a Root Chakradance Workshop led by myself as a licensed Chakradance Facilitator. 
This dance is inspired by indigenous cultures so we can connect to our roots, instincts and grounding. Through music that resonates to the vibration of the root chakra we activate the energy within our own root chakra and connect to our own energy at this centre. 
We are dancing our roots, our ancestors, our instincts and reconnecting with our primitive self, our body. This is more like a raw animal dance, a dance of the feet and legs. This is the dance that also connects us to Mother Earth. 
We also refer to this as the dance of the legs and feet. Some of us connected to a power animal.
Following the dance we carrie a spontaneous creative drawing exercise to help us integrate the dance experience. This creative exercises also helps as a guidance to what needs to be reset for a more grounded, centred and spontaneous life.
If you would like to know more about the root chakra and how chakradance can support you in living a balanced life feel free to get in touch for more information here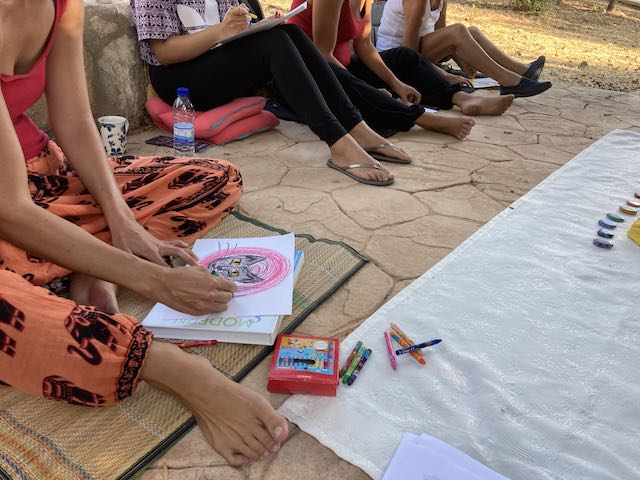 A day well spent caring for ourselves, becoming more self aware and receiving more clarity and insights. And of course, the participants left renewed, renergised ready to face the world through the practices we shared with them and that they can use any time of the day.
Thanks to all those who attended and were open to this experience. 
If you live in Cyprus and would like to join any other similar event to 'Reset Your Life' I invite you to keep an eye on the Events Section . If you cannot wait and wish to 'Reset Your Life' right now, I invite you to contact me for a FREE 30 minute call here.  
Want to stay connected with me?
Subscribe to my newsletter
Sharing is caring .... if you think that this blog article can be of help, please share it through it the links below.